Date/Time
Date(s) -May 18 2017
6:30 pm - 10:30 pm
Location
Fellowship of the Inner Light
Categories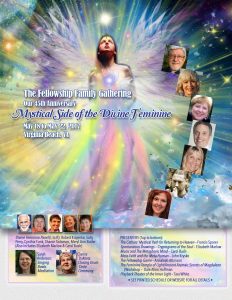 The Fellowship Family Gathering ~ Our 45th Anniversary Celebration
The theme of the Gathering is:
Mystical Side of the Divine Feminine     
May 18 to May 22, 2017
620 14th Street
Virginia Beach, VA
THERE IS NO SET CHARGE FOR ATTENDANCE AT THE GATHERING. IT IS PAID FOR WITH YOUR LOVE OFFERINGS: THE EVENT IS FULLY FINANCED BY YOUR GENEROUS VOLUNTARY DONATIONS, WITH GOD'S PROMISE OF ABUNDANCE COMING INTO YOUR LIFE FOR ALL THAT YOU FREELY GIVE, AND WITH GRATITUDE AND THANKSGIVING FROM YOUR FELLOWSHIP OF THE INNER LIGHT CENTER.
We will be having 3 Pot Luck Dinners that we ask you to contribute food. The Church will be providing 2 lunches and a breakfast meal for all to enjoy.
[NOTE: If you would like to make your LOVE OFFERING in advance, go to: http://fellowshipoftheinnerlight.com/ click on the "Donate" button, top right, and note that it is for The Family Gathering.]
Registration
Register by sending an email to info@fellowshipoftheinnerlight.com or by calling
757-428-5782. Include name(s) of the people who are attending, and their city and state.
————-
Opening Evening ~ 6:30 to 10:30PM
» THURSDAY, May 18: Dinner on your own
6:30 pm – 10:00 pm – Registration and wine and cheese reception
8:00 pm – 8:15 pm – Welcome announcements
8:15 pm – "In Memory" Slide Show and Singing Bowls Meditation – Judith VanCleave and Sarah Anderson
———-
» FRIDAY, May 19
9:00 am – Doors open
9:30 am – Seven Terrace Meditation
10:00 am – 12:00 pm – The Cathars' Mystical Path for Returning to Heaven – Francis Sporer, B.S., M.A., CMT – Sanctuary
Up until the 13th century, when they were finally annihilated by the Catholic church, the Cathars, a gnostic sect, taught beliefs and practices with interesting parallels – and divergences – from the metaphysical concepts of Paul Solomon and Edgar Cayce. In 1988, Francis joined a group from Davidhuis, a spiritual center in Holland, associated with the A.R.E. and the Fellowship, for a "pilgrimage" to the south of France, heart of Cathar country, where they learned the fascinating, and unfortunate, history of this "heretical" gnostic sect, and visited Cathar chateaux, caves and landmarks in the Occitane. This fully illustrated presentation will help participants become more aware of their own personal beliefs and their place in the history of the evolution of mystical spirituality.                    
10:00 am – 12:00 pm – Spontaneous Drawings – Cryptograms of the Soul – Elizabeth Marlow – Upper Room (limited to first 12 to pre-register; email info@fellowshipoftheinnerlight.com to request a place)
This original-concept model created by Elizabeth is the culmination of some twenty-five years of exploring drawings as an intuitive way to bypass the linear mind and go directly to the soul.
Come with crayons … ready to make at least one spontaneous drawing (no art ability needed and stick figures work well!). You will be given tools to interpret drawings and input about your individual drawing(s). Expect to gain at least one helpful insight about the challenges, unique talents, and latent gifts of your soul's journey. The process is deep and provocative yet gentle and playful. Attendance is limited to the first 12 to pre-register.
12:00 noon – 2:00 pm – Lunch on your own
2:00 pm – 4:00 pm – Music and The Metaphoric Mind – Carol Bush, M.S.W., L.C.S.W., FAMI
This workshop will introduce you to the healing potential of music and its ability to awaken your connection with your soul through altered states of consciousness. After an overview of how the elements of sound engage the metaphoric mind, and how this in turn activates your intuitive abilities, you will work in pairs as guides and travelers. This method of having music elicit profound feelings and insights provides an opportunity to experience this internationally-known method in depth.
Bring a notepad and, for your comfort, a pillow and large towel or mat to lie down on while having the experience. Sitting in chairs is also acceptable.
6:30 pm – 8:00 pm – Potluck dinner – Please bring a dish
8:45 pm – 10:30 pm – Desserts and conversation