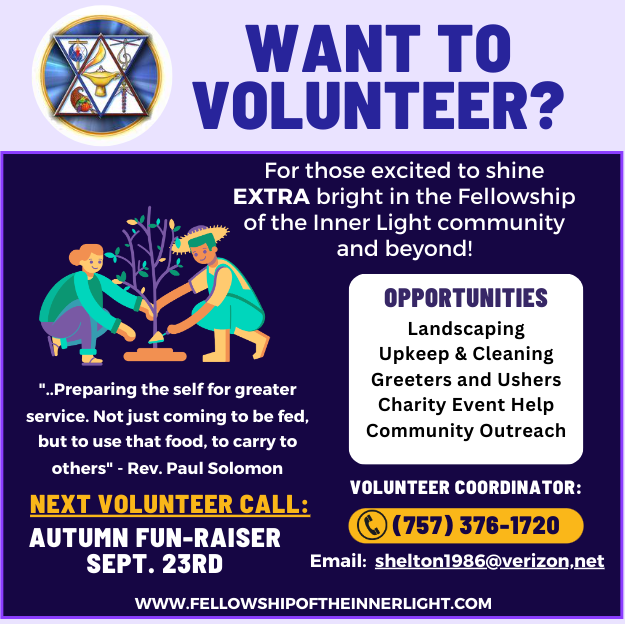 There are always new opportunities for those excited to shine EXTRA bright in the Fellowship of the Inner Light community and beyond! We look forward to hearing from you.
"… Preparing the self for greater service. Not just coming to be fed, but to use that food, to carry to others." – Rev. Paul Solomon
The Fellowship's next volunteer opportunity will be for the Autumn Fun-raiser on September 23rd. The event is from 10AM-2PM, and volunteers are needed from 9AM-3PM. Please complete the form below if you are interest in this or future opportunities!
Landscaping – general grounds maintenance and upkeep, on-going through all seasons.
Upkeep & Cleaning – semi-annual community cleaning days, usually Spring and Fall.
Greeters & Ushers – open to pastors, seminarians, and members. Meeting church hospitality needs and welcoming new guests.
Events & Parties Help – setting up and cleaning up after events, ceremonies,  parties, the annual family gathering. Serving others during the entirety of these programs is also needed.
Community Outreach – serving other individuals and/or organizations locally and internationally by cooking to feed people, helping others with tasks, or participating in coordinated program events to expand the ministry's aid.
Please stay tuned for more dates for volunteer opportunities! 
To request information, please complete the form below.