Date/Time
Date - Dec 3 2023
Service starts at 1:00 pm - 3:30 pm
Location
Fellowship of the Inner Light
Categories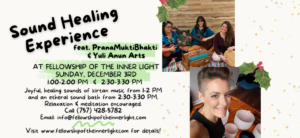 Sound Healing Experience with PranaMuktiBhakti and Yuli Anun
Date: December 3, 2023 @ 1:00-2:00 PM & 2:30-3:30 PM
Where: At Fellowship of the Inner Light, Sanctuary
What To Expect: Joyful, healing sounds of kirtan (1-2 PM) music followed by an ethereal sound bath meditation (2:30-3:30PM). This is a donation based class with a suggested donation of $10. Seasonal tea offered in celebration of Advent. Same-day registration is available. Contact us at 757-428-5782 or by email at info@fellowshipoftheinnerlight.com
About the Performers: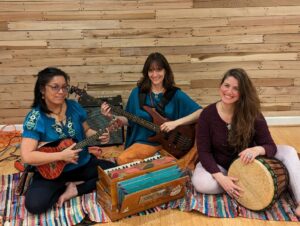 PranaMuktiBhakti is based out of SouthEastern Virginia, and has been offering kirtan within their community and beyond since 2015. Kirtan is a practice of Bhakti, the Yoga of devotion, where attendees are invited to chant sacred Sanskrit and English mantras to celebrate the Divine in its infinite forms! All three members of the band take turns leading chants while the others harmonize. Neleh Poletsky plays ukulele, harmonium and rhythm instruments. Kim McCoy plays bass and harmonium. Liz Sanderson plays hand drums, harmonium and rhythm instruments. Together they create a unique sound that inspires Divine connection and praise!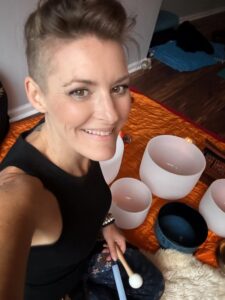 Yuli Anun is an intuitive visual artist/storyteller, a visionary, an art therapy life coach, a vibrational sound healer and so many other wonderful things! Most recently , Yuli earned a certification in Access Bars thru Access Consciousness. Yuli Anun means "Dear One, Brighter Than a Thousand Suns." The name was given to her through a very prolific Spiritual experience in which she birthed a new consciousness and her whole life was transformed.  Yuli was born in Alexandria, VA as Jennifer Gleason and has led a rather nomadic lifestyle up to this point. Through her sojourn, Yuli's Spiritual connection has strengthened through life lessons learned through time… But who is Yuli? First and foremost, Yuli is a Spiritualist and, admittedly, about as authentic and "woo woo" as they get! She is a devoted healer thru the visual arts, vibrational sound therapy, thru energy directed through her hands, thru loving & by simply BE-ing and inspiring others to BE also.