Date/Time
Date - Nov 26 2023
Service starts at 10:45 am - 12:15 pm
Location
Fellowship of the Inner Light
Categories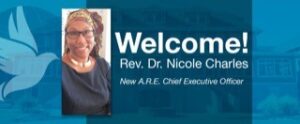 Rev. Dr. Nicole Charles
We look forward to welcoming Nicole Charles as our speaker on Sunday. Nicole is the CEO for the Association for Research and Enlightenment -The Edgar Cayce Foundation.
Rev. Dr. Nicole Charles is an ordained Interfaith Minister; she holds a doctorate in Interfaith Theology specializing in spirituality and health, and a masters in Integrative Health. She has taught undergraduate and graduate courses specializing in Community Health, Integrative Nutrition, and Behavioral Health. Her passion is being in service to others so they may be change agents in their communities.
Rev. Dr. Charles has concentrated her career in non-profit executive management and higher education institutions. She seeks to forge alliances towards community engagement and capacity building that supports multi-generational participation and action.
Having travelled extensively through various countries in Africa and the Caribbean isles, Nicole has been able to honor her many passions within research of Afro-spiritual traditions and indigenous-natural medicine. Her love of people and the sharing of personal and collective stories has supported her deep spiritual practice of honoring, prayer, and meditation. This pursuit has also allowed her to examine the common spiritual principles and practices amongst all peoples, cultures, and religions. A part of her vision for the A.R.E. is to expand the outreach and impact of the Edgar Cayce material extending access to all communities and age groups– supporting mind, body, and spirit for the health, wellness, and wellbeing of our communities.