Date/Time
Date - Jun 18 2023
Service starts at 10:45 am - 12:15 pm
Location
Fellowship of the Inner Light
Categories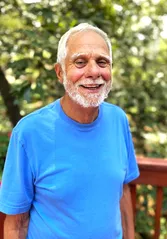 Charlie Liggio
The Role of Father in Our Lives
Will explore and reflect on the role father plays and has played in our lives. He will ask the congregation to share stories of their own fathers or their own experience as father.
Charlie Liggio LCSW is an 80 year old father and grandfather. In his early years studied for the Catholic priesthood. Was for 13 years the Director of Religious Education at Star of the Sea Catholic Church in Virginia Beach. In 2003 he established First Colonial Psychotherapy Services in Virginia Beach. Has a Masters in Religious Studies from Manhattan College and a Masters in Social Work from Norfolk State University.