Date/Time
Date - Mar 12 2017
Service starts at 10:30 am - 12:30 pm
Location
Fellowship of the Inner Light
Categories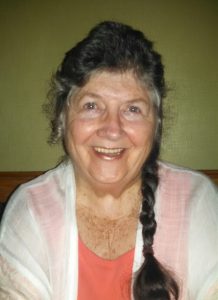 The Service begins at 10:45 am
Pre-service meditation time of 10:30 am 
We are delighted to have Reverend Sally Perry, also known as Swami Satchidanand Ji, as our speaker on Sunday, March 12. Sally is a part-Cherokee Medicine Woman and a spiritual healer who calls herself "Spirit Medicine."
Sally is the teacher and author of "Chronicles of a Healer, She Who Dances." She has apprenticed with the Native American Shaman, Beautiful Painted Arrow and has traveled and worked with Alex Orbito, an internationally known Philippine healer made famous in the writings of Shirley Maclaine. Sally was initiated as Swami by Yug Purusha Swami Paramanand Ji and went in 2000 as official observer at 2000 World Peace Summit at United Nations. She has received an "Outstanding Business Woman of The Year Award", was a Unity Church Teacher and was ordained at The Fellowship Of Inner Light by Paul Solomon in 1992.
These experiences help shape a radical shift in her priorities and altered her life forever. These experiences helped her to know the supernatural as natural and the extraordinary as ordinary.
Rev. Sally conducts workshops, personal healing sessions, and group Vision Quests in the mountains and deserts across the country to help those who are ready to discover the vision they came to earth to live.  "Each of us has come here to become one with the Great Spirit-to live in the realm of Spirit and yet remain connected and balanced within the realm of earth".
Sally says that there are always helpers and signs along the way for anyone willing to listen.  She is a keeper of ancient mysteries.  Her work is simply to assist people to understand and heal their physical, emotional, mental and spiritual bodies at a deep cellular level so they can see the repetitive soul patterns that keep them from healing.  For Instance, if someone has experienced many lifetimes where they were murdered or shot, severe traumas that lock in the the cellular memory, she can help them see, hear, and feel what created the pattern.  Once there is understanding, they are able to move to another level.
According to Sally, the ancient ceremony of the Vision Quest has emerged once again at this particular time in earth's history for a very specific purpose.  Sally says that universally, all of humanity is undergoing a birth into a higher level of consciousness.  The process of helping people give birth to their visions, both individually and collectively, is helping the planet give birth to the New Order.  The Native American wisdom is re-emerging to midwife this birth.  Shamans and medicine people are bridge builders that will give us the courage to step in the unknown.  This is the purpose of Sally's work…. and this is her greatest joy.
Website: sallyperry.net
We open our hearts and minds to hear the message that Sally will share.
We will all be in the circle- the loop.  Nobody is left out and everybody gets there according to thier Divine Timing!