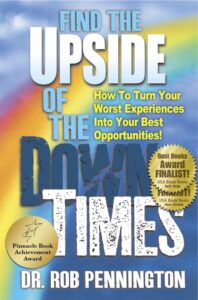 Find the Upside of the Down Times:
How to Turn Your Worst Experiences Into Your Best Opportunities
Shot by an assailant, fired from his job, audited by the IRS, and caring for a critically ill spouse until her death, psychologist Dr. Rob Pennington learned that even in the worst of times, positive possibilities could still be found. In his new book, Find the Upside of the Down Times: How to Turn Your Worst Experiences into Your Best Opportunities, Dr. Pennington empowers readers, giving them insights and tools they can use to turn sorrows and challenges into personal growth and fortune.
In the last decade, we have had to face problems more serious than ever before — personally, nationally, and globally. With so much seemingly needless pain and destruction in the human race, we need greater inner strength to remain hopeful, to avoid cynicism and despair. Find the Upside of the Down Times: How to Turn Your Worst Experiences into Your Best Opportunities is a book for anyone dealing with the inevitable curveballs of modern living. When we learn, as Dr. Pennington did, to view life's painful challenges in a different way, we can turn our worst experiences into our best opportunities.
Each autobiographical chapter relates a true story from Pennington's life, followed by the personal lesson he learned. The chapters end with activities he designed to save readers time and pain in turning their own negative experiences into positives. With wit and tenderness, vulnerability and candor, Pennington takes the reader on a journey through many aspects of their own lives, from career and finances to relationships, education, and health. And when tragedy strikes, Dr. Pennington demonstrates through his own humanity that even though we all have difficult times, we also all have the ability to rise above them.
Enjoy his book. Here it is on Amazon:
Contact Rob at http://www.robertpennington.com
The Author
A professor at three universities, a four-time recipient of the Mental Health Association's Outstanding Speaker Award and one of Meeting Professional International's original Platinum Presenters, Dr Pennington has received the highest trainer evaluations each year from Fortune 100 employees for 29 years! For the first time in book form, Dr. Pennington provides insights he has presented in trainings and keynotes worldwide on a range of professional and personal development topics.