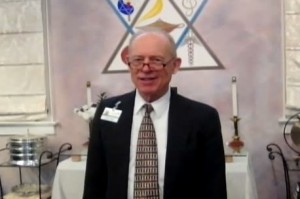 Dick Dinges has been part of the Fellowship for the past 10 years. He has served in several offices, including Chair of the Board of Directors. Currently he continues to serve as a volunteer pastor and as the man behind the video camera.
Dick was ordained at the Fellowship about 6 years ago, but he is also an ordained minister in the United Church of Christ, where he served congregations for 26 years. He resigned his last church in the UCC because of differences, but says, "I have found my spiritual home at FIL."
Dick is married to Bonnie, who is active at the UCC church he last served. Dick and Bonnie are parenting three of their grandchildren at home, which is a full-time job. Dick is also a Hospice Chaplain with Heartland Home Healthcare and Hospice. Dick uses his discretionary time working in his organic garden, where he tends seasonal vegetables throughout the year.