Date/Time
Date(s) -Jul 7 2019
10:45 am - 12:30 pm
Location
Fellowship of the Inner Light
Categories
Myles has been working with the Paul Solomon material,
by converting the old cassette tapes to modern digital formats.
This includes the Source readings, and lectures from Paul.
In the process, he's discovered some interesting bits and
pieces that he looks forward to sharing. From the very #first
readings, to the Chela classes, to angels making an appearance,
Myles will take us on a journey through the Paul Solomon
material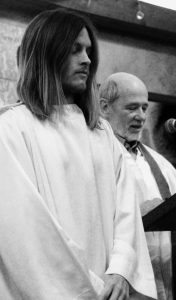 l, including his own reflections along the way.
What is it like to do readings? Did Paul look forward to it?
What surprised him the most? How were clients affected by the
Source? These questions and more will be answered, ending
with a brief detour into two of Myles's favorite subjects: Tarot
and Vedic Astrology.
Myles Tufts
recently completed his MA in Psychology and
Spirituality from Columbia University, is a certified Vedic
Astrologer through the American Academy of Vedic Art and
Science, and is an ordained minister with the Fellowship of the Inner Light