The Fellowship of the Inner Light welcomes every community member from around the world to attend its 45th annual Fellowship Family Gathering in celebration of the Mystical Side of the Divine Feminine! You will hear informative presentations, take part in amazing workshops, and experience truly transformational classes. Regardless of age, we welcome you to enjoy a weekend full of spirituality, amazing food, and fellowship family fun!
When: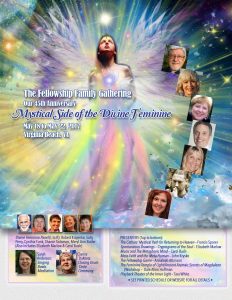 May 18, 2017 6:30PM- 10:00PM
May 19, 2017 9:00AM-10:00PM
May 20, 2017 9:00AM-10:00PM
May 21, 2017 10:30AM-9:00PM
May 22, 2017 9:00AM-12:00PM
Where:
620 14th Street
Virginia Beach, VA 23451
Cost:
THERE IS NO SET CHARGE FOR ATTENDANCE AT THE GATHERING. IT IS PAID FOR WITH LOVE OFFERINGS: THE EVENT IS FULLY FINANCED BY YOUR GENEROUS VOLUNTARY DONATIONS, WITH GOD'S PROMISE OF ABUNDANCE COMING INTO YOUR LIFE FOR ALL THAT YOU FREELY GIVE, AND WITH GRATITUDE AND THANKSGIVING FROM YOUR FELLOWSHIP OF THE INNER LIGHT CENTER.
[NOTE: If you would like to make your LOVE OFFERING in advance, go to: http://fellowshipoftheinnerlight.com/ click on the "Donate" button, top right, and note that it is for The Family Gathering.]
Great, I'm totally there! How do I register?
Register by sending an email to info@fellowshipoftheinnerlight.com or by calling
757-428-5782. Include name(s) of the people who are attending, and their city and state.
This is helpful for our planning of meals and room set-ups.
Can I bring my child?
Everyone is welcome! To arrange childcare, please contact Rainbow Angelica Perry at (757) 288-8075 or roseannestone@hotmail.com.