The Fellowship of the Inner Light welcomes every community member from around the world to attend our very special Fellowship Family Gathering's 45th Anniversary Celebration. Our theme will be to explore the Mystical Side of the Divine Feminine! We have great speakers lined up to make informative presentations , you'll take part in several amazing workshops, experience truly transformational classes and great entertainment. If you are new to the Fellowship, this is a chance for you to get to know the "long time members" from around the world. We welcome you to enjoy a weekend full of spirituality, amazing food, and fellowship family fun!
When: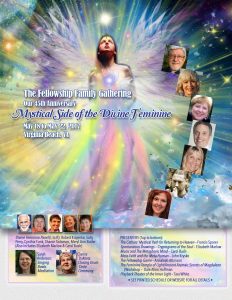 Where:
620 14th Street
Virginia Beach, VA 23451
Cost:
THERE IS NO SET CHARGE FOR ATTENDANCE AT THE GATHERING. IT IS PAID FOR WITH YOUR LOVE OFFERINGS: THE EVENT IS FULLY FINANCED BY YOUR GENEROUS VOLUNTARY DONATIONS, WITH GOD'S PROMISE OF ABUNDANCE COMING INTO YOUR LIFE FOR ALL THAT YOU FREELY GIVE, AND WITH GRATITUDE AND THANKSGIVING FROM YOUR FELLOWSHIP OF THE INNER LIGHT CENTER.
We will be having 3 Pot Luck Dinners that we ask you to contribute food. The Church will be providing 2 lunches and a breakfast meal for all to enjoy.
[NOTE: If you would like to make your LOVE OFFERING in advance, go to: http://fellowshipoftheinnerlight.com/ click on the "Donate" button, top right, and note that it is for The Family Gathering.]
Great, I'm totally there! How do I register?
Register by sending an email to info@fellowshipoftheinnerlight.com or by calling 757-428-5782. Include name(s) of the people who are attending, and their city and state. Even if you are only coming for one of the days  or just to a couple of meals, having this information is necessary to know when planning meals and room set-ups. Also, by registering we can make sure to have a name badge available for you when you arrive.
Can I bring my child?
Everyone is welcome! To arrange childcare, please contact Rainbow Angelica Perry at (757) 288-8075 or roseannestone@hotmail.com.
John Krysko – Meta-Faith and the Meta-Human (2017)
The Divine Feminine Panel (2017)