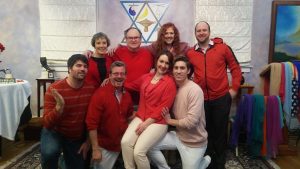 INNER LIGHT PLAYBACK THEATER made its debut performance on August 27th, 2016.  The troupe received a standing ovation for honoring the late great Martha Rapoport who first brought Playback Theater to Hampton Roads in the mid-1990's.  Playback Theater is an international organization with troupes all over the world.  It was created by Jonathan Fox and Jo Salas in the 1970's.  Its purpose is to help change the world for the better by allowing people's stories to be heard and valued.  It is used for social change, therapeutic & educational workshops, and life celebratory events.  Audience members verbally share their true life stories, memories, thoughts & feelings, then watch as trained actors immediately "play it back" via meaningful performance art.  Playback uses a variety of creative forms involving theatrics, prose, movement, sound, color, props & music.
THE DIRECTOR:  Tara White enjoyed being in the former "Playback Theater Hampton Roads" for 16 years because "Playback Theater offers a unique opportunity to give back to your community in a highly creative, life-affirming, loving way."  She started her own troupe in 2015 which has evolved into INNER LIGHT PLAYBACK THEATER.  The troupe is grateful to call The Fellowship Center "home" because of its long history of exceptionally promoting love, caring, acceptance, kindness, non-judgement, truth and community.  Tara White is also a Counselor-In-Residence with an office at The Fellowship Center.
REHEARSAL INFORMATION:  All are welcome to come to our open rehearsals to observe, share stories and/or see if they would like to join our troupe.  We train all levels/ages at their own pace. Each week, each troupe member shares their own true-life stories to be performed by the others.  These stories (like our audience's stories) can be brief or long, happy or sad, funny or serious, past or present, thoughts or feelings, etc.  Actors learn to focus on the feelings, meaningfulness, and message of the stories. Training is a lot of fun, low pressure and creates a deep support of each other's life journeys in a positive environment. Time: Every Tuesday, 7 – 9PM at The Fellowship Center.  4-6 PM for Teens (13 – 16). $20 monthly fee.  Paid & charitable performances. Join us at facebook.com/playback-improvisational-dramatic-theater or call/text Tara White at 757-714-7142 to sign up.